Assistant Opportunities Avaliable
"One of a Kind" High School Strength and Conditioning Mentorship
Location and Environment:
Cardinal Gibbons High School is located in Raleigh, North Carolina. It is a co-ed Roman Catholic high school of approximately 1400 students, 140 full-time staff and 100 part-time staff. There are 26 varsity athletic teams along with 40 junior varsity and freshman teams. Approximately 75% of the students (or 850 students) are involved in an athletic team or program. It is a special culture of Faith, Service, and Leadership that can allow a young professional the opportunity to gain high quality experience to build their teaching and coaching career.

This is a proven professional experience for 10 months for a young professional that is led by a former college Strength and Coaching coach in Chris Morland, MS, SCCC, CSCS, USAW. At NC State for 9 years Chris started the internship program in 2005.  Now at Cardinal Gibbons Chris directors of Strength and Conditioning and Teaches in the Health Physical Education department. He has facilitated the growth of more than 35 young coaches who are now employed as high school coaches and teachers, college coaches, and coaching in professional sports among other areas of the health profession. This is supportive environment as start-up professional who is looking to get the experience needed to get their career off the ground.  The former coaching crew who helped start the program at Cardinal Gibbons continues to blog to help other coaches, trainers, students, and clients reach their potential.
To view the network of past professionals to this link: http://grfx.cstv.com/photos/schools/ncst/sports/strength/auto_pdf/Alumnetwork.pdf
Gibbons STRENGTH Methodology: Gibbons Strength and Conditioning is a ground-based, free-weight focused, planned long-term development (LTD) program based on the biological age of the participant. The two key areas are 1) consistency of training (minimum of 2 days/week) and 2) monitoring the program results including nutritional needs. This evidence-based approach has achieved a healthy lifestyle and made a difference.
Twitter: strength_cghsnc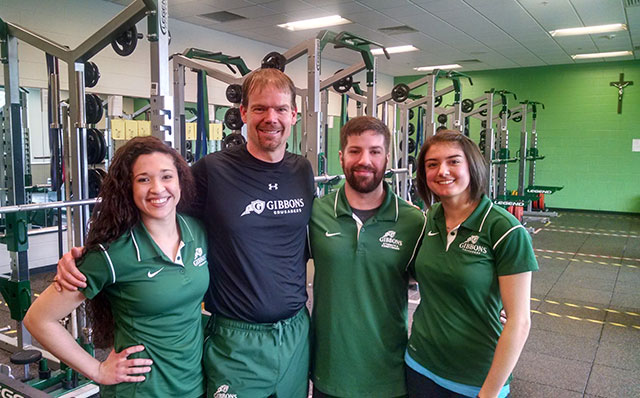 Volunteer Assistant positions available for this summer into the 2016-2017 school year: This is curriculum-based experience that can satisfy any internship requirement.  From past interns and assistants the feedback has been to continue for 10 months to get a full experience in how to communicate, organize, and design and implement a program.  After the initial transition there is a flexible AM or PM schedule to fit any other outside commitments. Flexibility allows someone to partner with another fitness organization locally. Fifteen-twenty hours per week is required in 3-4 hours blocks to make the experience optimal for the duration of 10 months. Beginning dates are June 5th, Aug. 5th, or January 5th. Interested professionals please send their resume, cover letter, along with two letters of recommendation by a work supervisor or professor from school to cmorland@cghsnc.org
Thanks and #GoGibbons!