Overview:
Along the way in coaching at NC State University and teaching and coaching at Cardinal Gibbons High School I've had the privilege to work along-side some top-notch young professionals as they developed their coaching brand and skills.  Here are the biographies of these members starting with the most recent.
Devin Cornelius, current assistant coach
Devin is currently the Assistant Strength Coach at Cardinal Gibbons High School and Performance Coach at Athletic Lab. Devin is currently pursuing certifications to become a strength and conditioning specialist and track and field coach.  He is a decathlete training for the 2020 Olympics in Tokyo, and sponsored by MorlandSTRENGTH.
K. Hunter Byrd, former assistant coach

Hunter (NASM-CPT) is a Senior Exercise and Sport Science Major in the Fitness Professional Track at the University of North Carolina at Chapel Hill. He has been involved in undergraduate research in the Sports Medicine Research Lab at UNC where he has been actively looking into mechanisms of injury prevention for lower extremity biomechanics. Hunter is passionate about human movement and ensuring proper movement is taught to enhance performance for all people. He carries this passion with him to Cardinal Gibbons High School, where he currently works as a volunteer assistant Strength and Conditioning coach.
Brendan Rabideau, former assistant coach
Brendan comes to the Gibbons STRENGTH and Conditioning program as a Certified Personal Trainer through the National Academy of Sports Medicine (NASM-CPT) and a High School Strength and Conditioning Specialist through the International Youth Conditioning Association.  He is also pursuing a BS as a Health and Fitness Specialist at East Carolina University ('16) in Greenville, NC.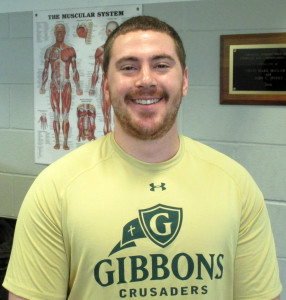 Brendan has always had a passion for sports and strength training.  At LaSalle Academy in Providence, RI he played varsity ice hockey and lacrosse earning 2nd team All-State in both his junior season and 1st team All-State in lacrosse his senior year.  After leading the league in assists and points his last two years at LaSalle he went on to play Division II collegiate lacrosse at Belmont Abbey College in Belmont, NC.  Unfortunately a string of concussions forced Brendan to the sideline.
Complementing his playing experience on the ice and field, Brendan has also been an instructor at several youth hockey and lacrosse clinics.  In addition to personal training, in Fall 2014 he began assisting with Next Level Training Center's Athletic Development classes for youth athletes.
Sean Cowick, former assistant coach
Coach Sean comes from East Carolina University as a coach that has been around the fitness industry for a few years now.  He did his internship over the summer and trained the 9th Grade football team.  He is currently a volunteer assistant for the Gibbons Strength and Conditioning program training multiple teams and as a co-sponsor of the newly formed GS Student Leadership Team.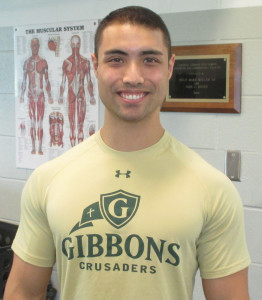 Coach Sean's mission is to provide others the knowledge to participate in exercise performance. He wants to increase body's self-awareness to better execute an exercise with proper form and technique, while maximizing the work output. Thus, providing the individual with confidence and knowledge of their body.  Also, educating the individual the importance of nutrition and its' benefits to their body's growth.  He strives to increase his knowledge in the field of health and human performance to better assist each person he trains.  The target goal is to help as many people as possible to reach their maximum potential and goals.  He currently has his ACE-CPT certification and is working toward the ACSM, CSCS, and USAW certifications over the next 6 months.
Amer Nahhas, CSCS, NSCA-CPT, USAW-L1, former assistant coach
Coach Amer came from East Carolina University alumni with a degree in Kinesiology and ample experience in coaching.  He completed an Associate in Science from Wake Technical Community College in 2011, then transferred to East Carolina University where he earned a Bachelor in Science in December 2013. He holds the National Strength and Conditioning associate Certified Strength and Conditioning Specialist (CSCS), as well as the personal trainer certification (NSCA-CPT).  He also holds a sports performance coach certificate through USA Weightlifting (USAW-L1).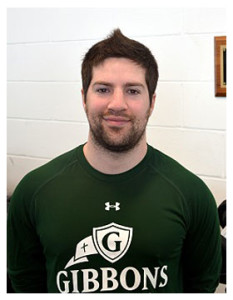 A valuable experience he had was a duel internship from August 2013 to December 2013 in both the clinical setting at Duke Raleigh lifestyle and disease management center along with a hands-on training at one of the lead facilities in the Triangle area called the Athletic Lab located in Cary, NC.  He has been the lead assistant strength and conditioning coach for Cardinal Gibbons High school since November of 2013.  Many professional opportunties has allowed Amer to gain a solid training experience in the field of Kinesiology totaling more than a two years. In the future, he aspires to go to Graduate School and get a Master's degree so he can train his students-athletes at the highest level, as well as spread more awareness about the proper way to develop human performance and athletic abilities."
"Coach Amer came to Cardinal Gibbons High School with an open mind to learn the methodology and with a strong work ethic that he applied to training and building relationship with the staff and students.  The Gibbons STRENGTH and Conditioning program will forever have gratitude to Coach Amer for his diligence, excellence, and the relational touch only his style could provide in the beginning stages of building a championship program.  We look forward to following him along as he continues to be in Raleigh with Lifetime Athletic and partner in any way.  Any organization would be blessed to have Coach Amer aboard to enhance their mission!"
[hr]
Chelsea Torres, MS, CF-L1, former assistant coach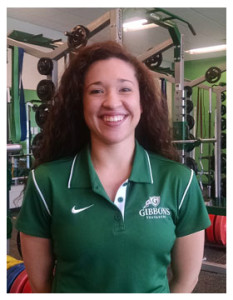 Chelsea Torres, a 2009 Cardinal Gibbons graduate, is an experienced trainer who earned both her undergraduate and graduate degrees from East Carolina University. In 2013, she graduated with a degree in Kinesiology and earned her Personal Training Certification through the American College on Exercise. Chelsea has garnered valuable experience in the fitness industry as the Graduate Assistant for Physical Activity and Fitness for East Carolina University Campus Recreation and Wellness during her graduate studies. She will earn her Master of Science in Exercise and Sport Science with a concentration in Sport Management in May of 2015. Her time at Cardinal Gibbons as an Assistant Strength Coach since January of 2015 has helped to hone her coaching method and realize a true desire to work with young athletes.
Chelsea's mission as a coach is to provide functional, transferable performance training to young athletes that not only increases their ability to perform in sport but increases their self-awareness and confidence in life outside of training. She prescribes educationally founded exercise tailored to an athlete's sport and personal abilities in a self-confidence promoting environment. As a coach of young athletes she strives to provide each one with the knowledge and ability to become future leaders in training and life. Chelsea truly enjoys coaching at her Alma mater and contributing to the future great athletes and leaders of Cardinal Gibbons High School.
[hr]
Erin Blaser, NASM CPT, former assistant coach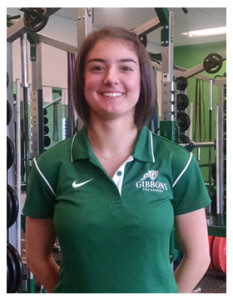 Erin Blaser graduates with a degree in Exercise and Sport Science from the University of North Carolina at Chapel Hill in May 2015. She holds a personal training certification from the National Academy of Sport Medicine (NASM-CPT). Erin has developed comprehensive skills in performing fitness assessments and designing workout plans through working at the Functional Movement and Fitness Center at UNC's Student Recreation Center. These skills have transferred to her current position as an assistant strength and conditioning coach at Cardinal Gibbons High School, and have grown to apply to more diverse populations. Through working at Cardinal Gibbons, she has also developed coaching techniques for working with both student athletes and staff members. In sum, Erin's experiences give her about a year of hands-on experience within the field of personal training. In the future, Erin seeks to gain more experience in personal training, as well as continue in nutritional and wellness education in order to support her clients with a holistic approach to overall health.
"Erin Blaser came back home to her Alma Mater during the spring of 2015 and make a strong impact on staff, students, and our Gibbons STRENGTH and Conditioning team. During the development stages of the program she offered a servant-leadership attitude as she helped built the foundation for a staff wellness program. She enhanced our coaching team with her tumbling skills and then provided the administrative savy to take our team to the next level. As she showcases her skills at Lifetime Fitness in Raleigh we look forward to partnering with with her! Her leadership in the beginning of the Gibbons Girls program was awesome and we are so blessed that she shared her time with us! "
[hr]
Justin Taylor, CSCS, former assistant coach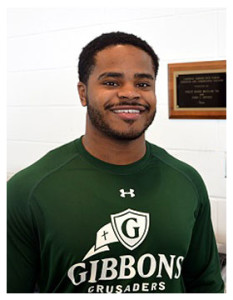 Coach Taylor received his Exercise Sport Science major with a concentration in Fitness Professional at UNC-Chapel Hill. He is a native of Durham, NC, where he was a standout and leading linebacker at Northern Durham High School. He later played one year of varsity Football at UNC-ChapelHill. He decided then to pursue exercise given his passion to enter the strength and conditioning profession. He states, "I've been strength training since age 11 but it was under Coach Jeff Connors that I decided to pursue strength and conditioning as a profession." Over the last four years he has trained athletes in preparation for collegiate sports teams totaling about 50 athletes. Justin plans to obtain his certification as a Strength and Conditioning Specialist and get his Master's degree in Exercise Physiology.
Chris Morland (Director of Strength & Conditioning at Cardinal Gibbons High School) states:
"Coach Taylor was a vital and valuable team member of our staff during the spring and summer of 2014 showing excellent skills in designing and implementing training programs with football, track and field, and other sport teams. He motivated our kids to reach higher goals with such report that many of them ask about how he is doing to this day."